The Top Ten Fuller's geodesic Homes In The World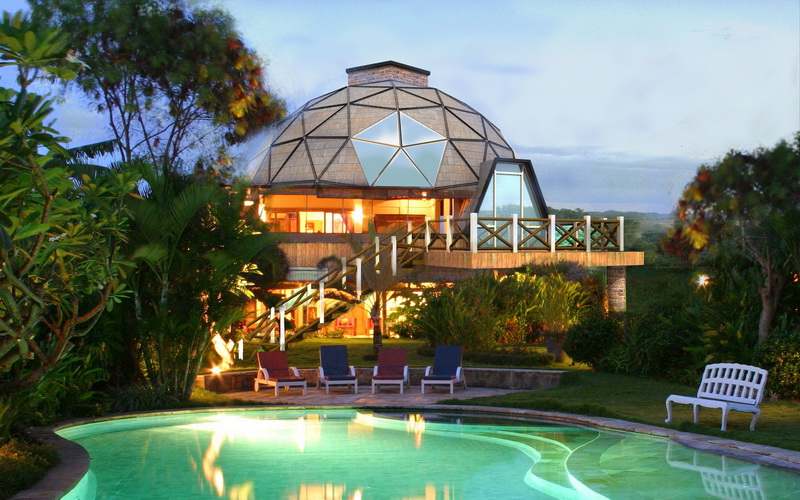 We develop architectural and design projects, residential buildings, based on the geodesic dome, as well as manufacturer of allrequired elements.
You can find eco-friendly, sustainable, and locally made and grown products on shelves in almost every store these days. So perhaps it's no surprise that some people want to make the buildings themselves more in tune with the environment, too. Or it could simply be that people just really like the idea of living inside giant soccer balls, which is what geodesic domes look like. In short, geodesic domes are structures that look like half spheres made up of many triangle supports.
A geodesic dome is a sphere-like structure composed of a complex network of triangles. The triangles create a self-bracing framework that gives structural strength while using a minimum of material. The term geodesic is from Latin, meaning earth dividing. A geodesic line is the shortest distance between any two points on a sphere.
We specialize in building a dome home that will be a healthy living environment for you and your family.
a totally new experience in living – a spacious, open, airy environment.
the ultimate energy penny pincher.
Wood paneled interiors.
Rejuvenating.
Surprising.
Humanly elegant.
Provocative.
Breath-taking.
Best housing value around.
Superior engineering for ventilation, condensation, wintertime warmth, summertime cooling, energy savings and air circulation.
The most resource efficient dome building system creating the most amount of space with the least amount of materials.

The GEODOMAS Team will gladly answer any questions you might have and offer their creativity and experience to come up with the best solution for your project. Do not hestitate. Get in touch!

Farming Solution
Homes For Live