Wood Geodesic Guest House 700m2 For Mountain Landscape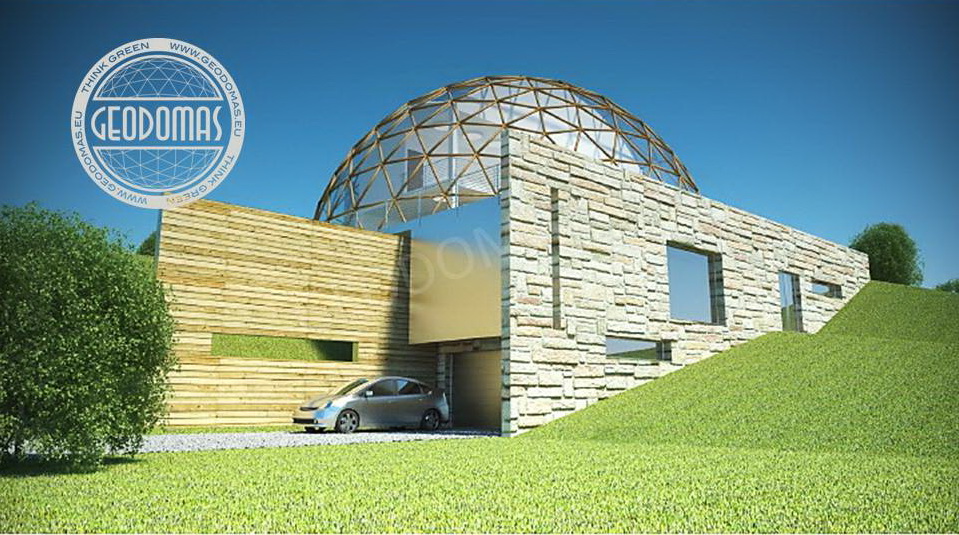 Healthy house. Wood is a natural raw material that has moisture regulation properties and creates an excellent indoor microclimate. Using other building materials, this result is difficult to achieve.
Short construction time. The construction time of a log house on the construction site lasts up to 3 months. Prefabricated and frame houses are usually manufactured in the factory, so on-site assembly takes up to a week.
Low house weight. The foundations of wooden houses do not have high requirements, so they are much cheaper, and bringing the wood itself to the construction site is cheaper than transporting other construction materials.
Possibility of winter construction or "dry" technology. Building a wooden house apart from the foundations does not require wet processes such as masonry and concreting, so the house can be built regardless of seasonality. In construction, all elements are connected in a dry way (with wood screws, nails, etc.), so there is no need to wait for the material to dry, it is possible to work continuously.
Simplicity of reconstruction and modernization. The construction of wooden houses allows you to quickly and easily modernize and reconstruct the house.
Error: The video (http://www.youtube.com/watch?v=lc_clnBY-2I) couldn't be embedded.
We specialize in building a dome home that will be a healthy living environment for you and your family a totally new experience in living – a spacious, open, airy environment the ultimate energy penny pincher.
– Wood paneled interiors.
– Rejuvenating.
– Surprising.
– Humanly elegant.
– Provocative.
– Breath-taking.
– Best housing value around.
– Superior engineering for ventilation, condensation, wintertime warmth, summertime cooling, energy savings and air circulation.
– The most resource efficient dome building system creating the most amount of space with the least amount of materials.

We ship resort structures around the world for all kinds of purposes. No matter where your resort or camp is located – whether on water, rocks, desert, sand, grassy plains, tropical beach, ice field or dense rainforest – we will ensure that it is designed, built and built to be environmentally and economically sustainable, secure and durable.
ONLINE SHOP
Homes For Life
Farming Solution