VIP Club 450m2 | Portable Geodesic Domes Ø20m & Ø13m, Jusine, Lithuania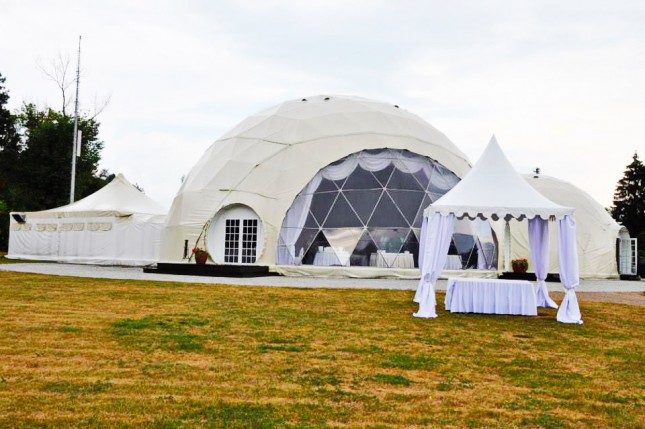 Short assembling period, mobility, representative look, competitive price – essential characteristics of this product.
Building is classified to a simple structures category, so the expertise is optional.Complex harmoniously integrated between pond and thickset pinewood.Hard task to keep proportion between comfort, luxurity and construction mobility realized successfully. Classic style interior decorated with curtains, furniture and thick soft carpet. Visitors comfort is guaranteed with modern ventilation and conditioning system. White decorative curtains with impressive waves falls down, they are not only decorates a huge space, but also hides a conditioning system pipes and white acoustic material. Acoustic material is designed to reduce echoes and to create a proper athmosphere for musicians and listeners.
The main pavilion GEO20 frame elements are made of strong, thick-walled stainless steel pipe AISI304, 33.3×3.7mm. Elements connects together with M14 8-8 bolts. Construction loads calculated with reserve which allows to hang additional constructions, lighting and other equipment. For a roof/facade production used a Austrian, armoured PVC tent 930 gr/m2, cream colour. Seams flashing and durability is guaranteed by a cover elements soldering with high frequency technology (Hi Frequency System).
Doors with glass packs and white PVC frames installed into strong, impressive, round frames made of stainless steel and white painted composite plates Neobond. Original design roofs installed over the entrances. They are made of stainless steel pipes and transparent PVC tent.
Large dome GEO20 panoramic eye-shaped window uncloses beautiful panoramapa. Well-groomed environment with abundance of plants, park, pond with bridge, beach and quay.
Complex attached to the ground with fast installation screw foundations help.
Pavilions are safe products according to LR Products safety law (1999-06-01 No. VIII-1206) 3 art. 5 cl.
During istallation period structure doesn't have bad influence for nearby territories. All distances between construction and buildings in other holdings meets fire safety and sanitary norms.
Portable Domes
Building Projects